HealthCorps Making Students Strong
OMRON Foundation has supported the mission of Healthcorps for over 10 years. HealthCorps, founded by Dr. Mehmet Oz, in 2003 to educate young people about mental and physical wellness, has programs which equip youth with the tools and knowledge to become resilient in mind and body for their long-term success and that of their community. HealthCorps focuses on prevention with the idea that every child deserves a life free of chronic diseases like diabetes, obesity, hypertension, cardiac mortality, respiratory issues, cancer and more. Further, addiction, low self-esteem, depression and mental health problems rooted in societal disruptions, are preventable. Healthcorps evolves effective curriculum to meet the relevant challenges faced by the next generation and with this help, HealthCorps students take charge of their lives and carry the baton of wellness to their family and friends. OMRON Foundation is proud to support their efforts to make a difference in the lives of so many.
Heart Health
Omron Foundation supports the American Heart Association and their efforts to improve heart health and protect people from heart disease and stroke through their awareness campaigns to promote nutrition, physical activity, weight loss, stress management, and smoking cessation.
Disease Treatment and Research
Omron Foundation has donated to many charities and foundations that help find cures to childhood diseases and help provide treatment and support for families seeking treatment. As one example, Omron supports the work of Ann and Robert H. Laurie Children's Hospital of Chicago (formerly Children's Memorial Hospital) through financial donations and through employee volunteers who help staff their annual Radiothon to raise money for the hospital.
Supported Organizations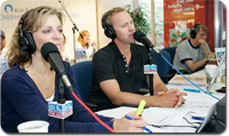 Alzheimer's Foundation
Avon Breast Cancer Awareness of Illinois
American Cancer Society
American Heart Association of Chicago
Ann and Robert H. Laurie Children's Hospital of Chicago
Drivers for Survivors
Epilepsy Foundation
HealthCorps
Hope Flight Foundation
Lupus Los Angeles
Musicians On Call
Narconon Drug Prevention Education Program
Respiratory Health Association of Chicago
Turning Wheels for Kids