Elementary education to college education with a focus on engineering, science, mathematics and technology.
Omron Helps Establish New Mechatronics Lab at CSU, Chico
On February 10, 2020, California State University, Chico (Chico State) held a ribbon-cutting for a new state-of-the-art robotics Engineering CoLab gifted by the Omron Foundation. Chico State is the second-oldest institution in the 23-campus CSU system, the nation's largest public university system. Founded in 1887, Chico State enrolls approximately 17,000 students and serves as the comprehensive university of the North State, the 12-county region where the campus is located. The campus is consistently ranked as one of the best regional public universities in the Western United States and recognized for its quality of education, affordability, value, and alumni success and Chico State boasts the nation's first accredited program in mechatronics engineering. The addition of cutting-edge equipment will make the university an even more attractive option for students interested in the subject as this new lab provides expanded mechatronics laboratory and classroom space. Laboratory construction began in summer 2019 and opened for classes in the spring 2020 semester. The 2,505-square-foot learning environment features industrial equipment of the type that's currently being used in next-generation factories worldwide. With this exciting new development, Chico State seeks to interest more engineering students in robotics studies and provide them with the skills necessary to succeed in a rapidly changing portion of the workforce.
University of Houston Cullen College of Engineering OMRON Senior Design and Robotics Laboratory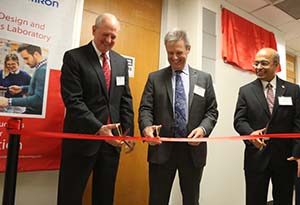 On April 26, 2019, the University of Houston Cullen College of Engineering held a ribbon cutting for the "OMRON Senior Design and Robotics Laboratory", a new lab aimed at giving University of Houston students the opportunity to prepare for real-world engineering challenges. The lab includes advanced technologies and equipment donated by Omron and was designed to help electrical and computer engineering students be as successful as possible. At the lab's opening ceremony, UH faculty and Omron representatives looked at a variety of senior capstone projects in an area of the lab dedicated to senior design projects. These design projects provide real world design experience which is helpful for gaining employment after graduation. "Prospective employers will expect them to speak intelligently about what they worked on for their design project so the experience they gain at this stage is very important," says Len Trombetta, the associate department chair. "This makes our graduates very marketable because these are skills companies want. We're grateful to Omron for making this possible." Omron Automation Americas President, CEO and COO Robb Black described the importance of preparing today's students for the latest challenges in engineering and manufacturing. "We want to bring the skills they have learned in school into the manufacturing sector," says Black. "I think it's a great way for students to learn real-world technology and apply it once they leave." The lab also includes student and faculty access to the full suite of OMRON's eLearning courses. Omron Foundation has been supporting the Cullen College's electrical and computer engineering students since 2010, when it established the Omron Scholarship in electrical engineering and sponsored a team of students applying their engineering knowledge to real-world industry problems in the Capstone Design course.
Omron Design and Automation Laboratory at North Central College
On May 9 2018, North Central College celebrated the opening of a new laboratory in the Dr. Myron Wentz Science Center with a ceremonial ribbon cutting. The Omron Design and Automation Lab will give North Central College engineering students the exciting opportunity to work with a wealth of cutting-edge technologies currently used in industry while constructing their own working systems at the numerous workstations provided. Giving students access to today's most sophisticated technology is a core purpose of the Wentz Science Center, and the laboratory will play a key role to this effect. The lab was built with funding from Omron Foundation. "Omron prides itself on its long-term focus, so it is our greatest pleasure to help educate the engineers who will solve tomorrow's challenges," says Nigel Blakeway, Omron Americas Corporation CEO and Omron Foundation President. "We are thrilled to be part of the development of such a future-oriented laboratory and to be able to guide students as they begin their engineering journey." The Omron Foundation has also granted all North Central College faculty and students unlimited access to its E-learning modules, which are packed full of information on core industry technologies such as vision, robotics, control, motion and safety. They will be an integral part of North Central College's new four-year bachelor of science degrees in computer, electrical and mechanical engineering beginning in the 2018-2019 academic year. In addition to the lab, Omron foundation will establish a new scholarship for North Central College Engineering students, it's 9th endowed scholarship in electrical engineering.
Omron Robotics and Human Factors Laboratory in the new Engineering Lab Building at the University of Michigan-Dearborn
On April 20, 2018, a groundbreaking was held for the University of Michigan-Dearborn's new Engineering Lab Building (ELB)--a $90 million project expected to be completed in 2020 which will transform engineering education by combining innovative teaching labs with modern classrooms to cultivate entrepreneurial problem-solving skills as well as technological expertise. In this new lab building, students will benefit from a multi disciplinary approach in an environment rich in collaboration and project-based learning. Cutting-edge labs will let students explore real-world applications in power engineering, robotics, bioengineering, cybersecurity and more. As part of this groundbreaking, the University announced a $1 million gift by the Omron Foundation for the establishment of the "Omron Robotics and Human Factors Lab" inside the university's Engineering Lab Building to further the learning and advancement of future engineers by learning the most advanced robotic technologies. In addition to the new lab, the Omron Foundation also announced a new scholarship for UM-Dearborn electrical engineering students, it's 8th endowed scholarship in electrical engineering and second in the state of Michigan.
Omron helps establish new Center for STEM Invention at Academy of Science and Design in Nashua, NH
In April of 2018, OMRON Foundation was proud to award a grant to the Academy of Science and Design (ASD) in Nashua, New Hampshire to establish the "Center for STEM Invention". The Center is primarily for Juniors and Seniors involved in intensive studies of novel STEM ideas, but also as a design center for engaging students across the state of New Hampshire in STEM inquiry and invention activities through unique, student-designed, student-led competition/exhibitions. The Center includes a small computer lab for research and video-conference with students/corporate partners in other parts of the state, a space for collaborative work/mini-presentations, and a functional makerspace that include storage for long-term projects. Students and faculty of ASD worked together to design the space with the aim of dramatically impacting student learning opportunities as well as to empower students to be leaders in the expansion of the STEM pipeline among New Hampshire's young people.
Omron-Northern Illinois University Robotics and Mechatronics Laboratory
In April of 2013, Northern Illinois University's College of Engineering and Engineering Technology established the Omron Robotics and Mechatronics Laboratory through financial and equipment donations from Omron Foundation. The lab will be used to bring mechanical/electrical/computational students together for senior design and course projects. Omron's SYSMAC technologies will be used to conduct new cutting edge industrial automation and robotics research. Students will have exposure to Omron technologies that allow them to explore Logic/Motion/Vision/Safety/Sensing disciplines in the Mechatronics field. It is anticipated that over 300 graduates yearly will learn and be able to practice mechatronics concepts using Omron SYSMAC technologies.
Omron—Illinois State University Applied Safety and Ergonomics Laboratory
In April of 2011, the Safety Program in Illinois State University's College of Applied Science and Technology established the Omron-Illinois State University Applied Safety and Ergonomics Laboratory through financial and equipment donations from Omron Foundation. It is equipped with Omron Scientific Technologies Inc. machine safeguards to help demonstrate machine safety and other safety concepts for students pursuing the safety field so they are better prepared to help others in the workplace.
Endowed Scholarships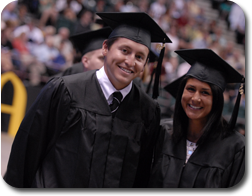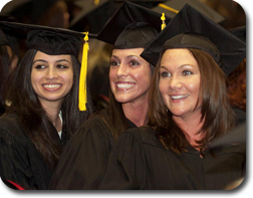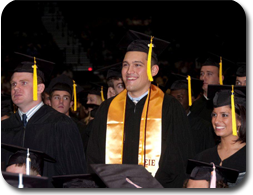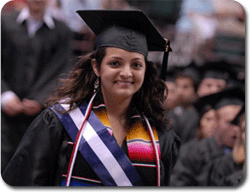 The Omron Foundation has establish mainly endowed engineering scholarships at the following schools:
Augustana College
Illinois Institute of Technology
Kettering University
Northern Illinois University
Northwestern Illinois University
Southern Illinois University
University of Houston
University of Illinois at Champaign
Illinois State University
University of Michigan-Dearborn
North Central College
William Rainey Harper College
University of California-Merced
Carnegie-Mellon University
Marquette University
Annual Scholarships
In addition, since 1992, Omron Foundation has proudly funded National Merit Scholarships for over 100 students.
Supported Organizations
Academy for Science and Design, Nashua, NH
American Association of University Women-West Harris County, TX-Expanding Your Horizons in Science and Mathematics
Augustana College
California State University at Chico Electrical Engineering Program
Carnegie-Mellon University, PA
Educare, Los Angeles
FIRST (For Inspiration and Recognition of Science and Technology), IL
FIRST New Hampshire Souhegan High School Robotics Team, NH
Hoover Math and Science Academy, Schaumburg, IL
Illinois School District U46 Robotics Club, Bartlett, IL
Illinois State University Safety Program
Illinois State University Environmental Health Program
Illinois State University Exercise Physiology Program
Junior Achievement
Kent Schools Foundation, Renton, WA
Kettering University Electrical Engineering Program
Marquette University, Wisconsin
Museum of Science and Industry, Chicago, IL
National Merit Scholarship
Northern Illinois University Electrical Engineering Program
Northern Illinois University Engineers Without Borders
Northwestern University Electrical Engineering Program
Robotics Education and Competition (REC)
STEM Savvy, Carpentersville, IL
University of California at Merced, CA
University of Houston Electrical Engineering Program
University of Illinois at Champaign Jane Adams Center for Social Work
University of Michigan Dearborn Engineering Program
William Rainey Harper College