Anderson Japanese Gardens Tatami Mat Restoration
In early 2020, OMRON Foundation helped support Anderson Japanese Gardens "Tatami Mat" restoration project to help support their continued mission to provide a place where visitors will find "healing, renewal, and a re-energized soul." Anderson Japanese Gardens in Rockford, Illinois is an authentic Japanese Garden maintained by the highest standards that touches the souls of our guests. With grace, elegance, and gentle awareness, the Gardens exemplify the Japanese cultural heritage of respectful humility in service to people of all cultures. Anderson Japanese Gardens evolved from an individual's vision to create a unique amenity for the Rockford region into an internationally renowned public garden. The founder's principals of authentic design, first-class craftsmanship and world-class maintenance standards have led to Anderson Japanese Gardens' reputation as one of the finest Japanese gardens in the world. Today, the Garden is a nonprofit and attracts nearly 100,000 guests annually. Last May, Anderson Gardens had the pleasure of hosting five tatami craftsmen and their chef to repair the tatami in two Garden structures originally installed in the early phases of Garden development. One was the 2,000 sq ft sukiya style guest house. The other is Chisokuan, the tea hut in the Garden. The transformation required the original plant fiber matting to be removed and replaced with new material; a restoration process that involved a unique and highly skilled art form. In demonstrating their techniques, the Japanese craftsmen expressed their mission and heart and shared their talent and knowledge with the world.
The Garden of the Phoenix
Omron Foundation supported the Garden of the Phoenix in Chicago's Jackson Park by donating funds to create the digital content which tells the 160-year story of the history of Japan-American relations in the US. This content describes the friendship, turmoil, and prosperity between the US and Japan and is part of a larger park which is home to SKYLANDING by Yoko Ono as well as a revitalized landscape, and future pavilion, and is a public space to reflect on our history and future. More information can be found at: www.gardenofthephoenix.org/#timeline
Concordia Language Villages "Mori no Ike" Japanese Language Village
Omron Foundation has supported scholarships for interested students to attend two-week visits to the "Mori no Ike" Japanese language village during it's summer program. This program has encouraged young people to embark on a lifelong journey of acquiring fluency in Japanese and becoming versed in Japanese culture.
North Central College Japanese Language Program
Omron Foundation has supported Japanese Language Program of North Central College, a 150 year old college in Naperville, Illinois. North Central College has been teaching Japanese since the 1800s and has been exchanging students since the program's inception. The Foundation's grant support students each year to visit Japan to study for 10 week terms or longer.
Streamwood High School World Languages and International Studies Academy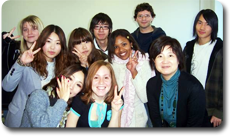 Omron Foundation has supported Streamwood High School's World Languages and International Studies Academy Experiential learning program, helping students attend a two week summer school in a small village of Shimane Prefecture, Japan, helping students gain an understanding of the Japanese culture.
Supported Organizations
Anderson Japanese Gardens
Concordia Language Villages "Mori no Ike" Japanese Language Village
Elk Grove High School Japanese Language Program
Glenbrook South High School Japanese Language Program
Kobe College Japanese Language Program
North Central College Japanese Language Program
Streamwood High School World Languages and International Studies Academy
The Garden of the Phoenix Foundation, Chicago, IL
Thomas Dooley Elementary School Japanese Language Studies